Generally speaking, you won't find these anywhere except the
Apparel & Accessories section
of the website or brand stores, so if you are in the market for some new additions to your LEGO Star Wars collection you are welcome to click on the below to help The Holo-Brick Archives out.
| | |
| --- | --- |
| 853768 Landspeeder Bag Charm | 5005470 BB-8 Minifig Watch |
| | |
| 5005472 Kylo Ren Minifig Watch | 500547 Darth Vader Minifig Watch |
| | |
5005474 Stormtrooper Minifig Watch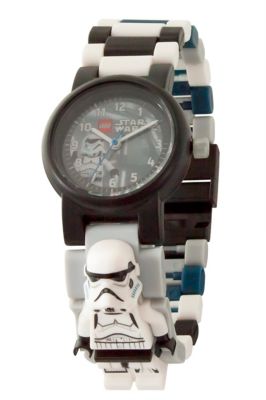 Note that some items aren't currently available in North America, and a few of the images showing up through our direct feed from LEGO aren't syncing with the actual product. We'll post an update to The Holo-Brick Archives when there is further news to share.
This post originally appeared on Rebelscum.com on the 3rd of June, 2018.
Fervent documentarian, effusive AFOL and founding partner, Jeremy manages the daily news content and set reviews.
Having enjoyed playing with LEGO from his earliest years, Jeremy started collecting LEGO Star Wars in 1999 when the theme was first released. He has shared his thoughts and opinions on LEGO via a number of websites – including starwars.com, rebelscum.com and brickset.com – contributed to the LEGO Star Wars: The Visual Dictionary series and served the LEGO Ambassador Network as a Recognised LEGO Fan Media representative.